October 10th, 2013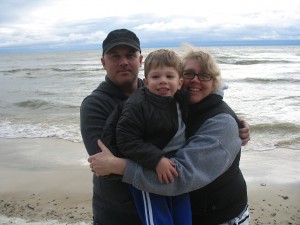 It's been so long, I don't even know where to start. I just know I need to, start, that is. There's an element to my personality, a constant communicator, I think, with myself, that gets lost when I don't have a moment to catch up, to document, to brave the introspection that comes with what blogging represents in my life. In a way, it's my journal–as it is with many writers, and I have sentences whirling around my head at all times, with nary a place for them to go these days because by the time I wrestle the pen out of my son's hands, find a piece of paper that doesn't have scribbles on it already, and sit down to write, he's climbed up the stairs by the banister or something equally dangerous, and by then the thought is lost anyway.
We spent about a week in Winnipeg visiting friends and it was very nice to get away. There's something truly wonderful about taking a break from your everyday life. Spending time in a place that is not familiar to you. And when you pause, even more ideas come floating into your brain. Yes, we could sell our house completely and move to Winnipeg. Yes, we could make a change that drastic if we really decided we needed to. Yes, wouldn't it be nice to just take a jet plane somewhere so completely away that you honestly get a break?
But what am I saying?
The value of routine for my life is unquestionable. I need the stability. Stemming from living through tragedy in my childhood, that I have a house I have lived in for almost ten years, with no plans to leave, makes me feel strong. Knowing I've been with my RRHB now for almost fifteen years holds something together. I'm not saying the last few years have been easy. They haven't. I'm not saying that we have a perfect union. We don't. But I am entitled to take comfort in the fact that fifteen is a lot of years.
I have seen both of my doctors in the last little while, the SFDD and the kidney doctor, and the disease has been stable now for a year. Our boy is turning three. I got a promotion at work, and my job is very interesting at the moment. We are climbing out of a debt-hole so huge I never thought it would be possible to fill in the dirt/debt, but we're slowly getting somewhere. The thing is–when you make a big list, and when you see your life in the big picture, it's actually a picture, and not just a snapshot, a slippery moment when everything feels overwhelming. Progress isn't always huge leaps and bounds. Things are better than I could imagine them to be–now if only I could control the day-to-day.
That's next.