September 4th, 2011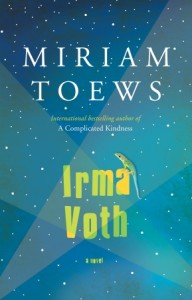 There's something about Miriam Toews's writing that I absolutely adore. It's quirky, yes. It's stylistically her own, yes. And yet, even though, as a writer, Toews has such a distinctive voice that you'd think that it would overpower the narrative, the characters, it really doesn't (at least in my humble opinion). In her latest novel, she revisits some familiar themes and/or characters: young girls with troubled home lives, Mennonite families with conflicting issues, generational problems, bossy-rebellious little sisters, and adventures that are necessary and compulsive. Irma Voth, a young, freshly married Mennonite woman who has married outside of her society, lives with her husband (they are both teenagers) in a house on her father's compound without electricity or running water. They married in secret. Her father has shunned her — she can milk the cows for her house but in no other way is Irma allowed to interact with her family.
When her husband essentially abandons her for asking too many questions (read: they married way too young and there was no way it was going to work out), Irma takes up with a Mexican film crew, and her life is forever changed. Irma misses Canada, her father absconded with the family when she was young, and she, and her sister Aggie, have fond memories of snow and their older sister, Katie. When the events unfold that drive Irma off the compound and onto the streets of Mexico City with Aggie and another, precious, package in tow, the two transform into the people perhaps they were always meant to be: strong, independent young women who both need to accept and come to terms with what Irma calls her "sins."
The novel revs along, even with the RRBB as insanely busy as he is right now, I managed to finish the book in a couple days, and as implausible as so much of the plot seems, that doesn't mean the book doesn't work. Irma, as she explores a world thoroughly removed from how she was raised, sees everything with a fascinating sense of wonder and curiosity. It's amazing the things in life you take for granted, like art, books, self-respect, love, and when Irma discovers all of this while coming to terms with the truth of both what happened to her elder sister and how her marriage turned out, she's stronger, but so incomparably sad.
I don't know how Toews writes so convincingly, so regularly, of a particular kind of loss and ache — I don't want to read anything into her writing other than her words, but the emotions in this novel are so powerful that it's impossible not to want to reach into the book and tear Irma to your chest in one fell swoop. Yet, you wouldn't want to deny her any of these experiences, however hard it might be to live on the streets of Mexico City for a few days with a 13-year-old sister, and a baby — there's kindness in strangers, love in happenstance, and a bittersweet ending that doesn't necessarily involve coming home to Canada, but there's an important reconciliation that had me up well passed my bedtime.
All in all, I've read so much of Miriam Toews work that I feel it's a disservice to pick one book above another, so I will close by saying that I admire Irma Voth, a young girl with an old name, an old soul, in a way that I haven't felt about a character in a very long time.