July 27th, 2011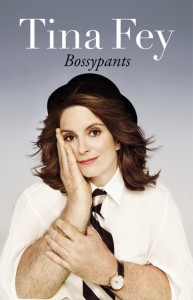 Summer reading generally means three things to me: extremely popular bestsellers, chunky classics that I never get around to finishing, and chicklit. I know I shouldn't consider Bossypants chicklit, but, in a way, to me, it was. I am not downplaying Tina Fey's obvious feminism or her ability to spin a good yarn — but it's more the sense of where her comedy comes from, a deeply funny, incredibly awesome redefinition of girlie. She's confident without being boastful, extremely thankful of all of her hard-won opportunities, but also wickedly aware of her own limitations, and the limitations of a "Hollywood" life. Maybe I'm reading too much into it — because it's really more of a series of vignettes than narrative nonfiction, which made for incredibly easy reading. Perfect for a week at the cottage by yourself with an infant.
I laughed out loud and I found so much of Fey's self-deprecating humour, her voice, and her ability to find a positive message for women in just about every situation that it's hard to remember what a force for change she remains in the "industry" (I say that like I am actually "in" any "industry"). I never found the read tedious like so many celebrity "memoirs" (and yes, it deserves air quotes, come on, you know it does). It doesn't feel ghostwritten or contain any deep-seeded confessions that turn my stomach a little even though I'm dying to read them anyway, ahem, Ashley Judd (let me tell you, when I was a tween, bedtime reading was Mommie Dearest; I know, it says a lot about me. In fact, Mommie Dearest coupled with Sweet Valley High, Louisa-May Alcott and Anne of Green Gables — not much has changed all these years later).
But, and I know this is going to be cliched, the parts of the book that I enjoyed the most, besides the episodes of summer theatre camp that sounded a LOT like the high school for the performing arts that I attended only with a lot less openly gay men, even though I did hang out with a group of boys that called themselves The Horsemen (of which my RRHB was one…), were the parts about motherhood. I think Fey could write an entire book about parenting and it would be awesome. I admire her for working so hard while her baby was so small. I admire her for how much she crams into a day. Mainly, though, I admire her 72 hours of breastfeeding and, in fact, all of her thoughts about the so-called pinnacle of motherhood. I did it. I loved it, and it broke my heart to stop, but I also feel good knowing that my kid seems pretty okay without it too. Plus, I want that Peter Pan birthday cake so bad my teeth ache.
In the end, I know for a certain type of girl like myself, we all see a little bit of us in Ms. Fey. Or, at least, we are pretty damn happy she's got the balls to say this stuff out loud. It's hard to be funny. I really wish I was…, funny, that is.