March 3rd, 2014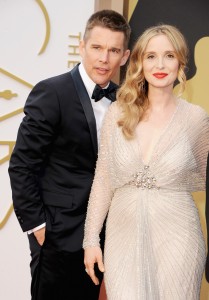 While I know I am not a cultural commentator with any weight whatsoever, and I know social media has sort of ruined the art of sustained thought through 140 snarky characters, but I'm going to ramble on about some stuff, and feel free to ignore me.
First, I'm a feminist. There are no modifications to that statement, I am, and, like Caitlyn Moran, I'll stand on a chair and shout it, if you can't quite hear me: I AM A FEMINIST.
So, too, apparently is Cate Blanchett, and I admired her speech last night for it's obvious stump-like quality of suggesting, broadly, that women want to see movies with other women in them. And I loved her comment, as above in the title of this post, "the world is round people," when referring to the fact that it's more and more apparent that there are juicier roles available to actresses that don't involve being half-naked and chasing around after men. But here's where the whole thing fell down for me–I find it hard, and harder still, to stomach, that Blanchett, who has played some kick-ass women in her career, was pontificating for Blue Jasmine, which contained two of the most appallingly-non-feminist, anti-women, even, characters to grace the screen in a long, long time. Woody Allen's personal issues aside, and they are legion, celebrating the great opportunities for women from a movie that demoralizes our gender so insultingly, well, it gave me pause.
Just because there are female roles doesn't necessarily mean that they are role models for females. I found the same thing with Gravity, which I enjoyed far, far more than I did Blue Jasmine–yes, Sally Hawkins and Cate Blanchett played the hell out of those characters, but they were not real women. They were not even approximations of real women. They were one-notes played on a sliding scale of bad decisions, and the sexism displayed in that film honestly shocked me. Never, not once, at any point in that film do either of the characters step outside of being defined by the men in their lives–they allow men to walk all over them, in multiple ways, their children are plot points, and their whole perception of the world around them is clouded by a desperation, which is seemingly of their own making.
But back to Gravity–a film celebrated for both its technical complexity and its brevity–not to mention the fact that Sandra Bullock plays an astronaut trapped in a terrifying situation (lost in space, even the thought of it freaks me out!). Why does Bullock's character have to be "damaged" (SPOILER ALERT) because she's lost her only child? Why does she need some emotionally cloying backstory? Does George Clooney's character have any other reason for being in space than the fact that he's a scientist? Why couldn't the George Clooney character be played by a women too–at least we'd be seriously challenging some gender stereotypes there in a meaningful way.
So while Hollywood was all "whoo-hoo!" look at all these great roles for women–let's break it down to see what kind of roles they actually were: Amy Adams plays a women who uses her sexuality for criminal purposes; she's a grifter. Cate Blanchett plays a women whose husband cheats on her, and then Bernie Madoff's a whole pile of people, and she can't stand on her own two feet. I haven't seen the film that Meryl Streep was nominated for, so I can't comment on her character. The same goes for Judi Dench in Philomena–I haven't seen the film, and don't want to make assumptions (especially, again, because it's based on a true story). And then Sandra Bullock plays an emotionally damaged scientist who is only up in space because she can't stand life on earth.
Forgive me for insisting that great roles celebrating women actually portray women who are changing the conversation in any feasible way? Just because the character is female isn't cause for celebration–why can't we be pushing the boundaries a little bit further and actually have roles that are good for our gender, and not just roles because of our gender.
I've included an image of Julie Delpy for a very specific reason. I loved Before Midnight to distraction, and it got my vote for best adapted screenplay even though I knew it wasn't going to win. Why? Because that character was a real woman–in almost every way. The only bone of contention I had with that script was how (SPOILER), while arguing, Ethan Hawke's character kept referring to Delpy's character as "crazy," which I hate–it's an easy way of doing away with a woman's feelings, going back to hysteria, etc., etc., but her Celine was the most modern, well rounded (with flaws, of course) female character I'd seen on the big screen in a very, very long time. Everything she said rang true, rang authentic, and I didn't feel like her gender was a plot point to be exploited, and nor was she emotionally manipulated for the purposes of audience enjoyment.
It's wonderful to see the rich and varied performances of some of the greatest actresses of my generation doing such vivid work, I just wish that there was an equal veracity applied to the scripts as is applied to the conversations about the shifting nature of Hollywood. It's not enough to be present on screen and winning awards. The words matter. The context matters. And that's what I found so frustrating about much of what was celebrated last night.
Next Page »