December 16th, 2011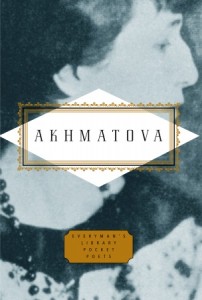 Yes, I am very behind. I have read seven different books in the last little while that need to be written about, I will be getting caught up over the next week or so because as of today at 5 PM, I am on vacation until January 3rd.
RRHB: "At least you can get some rest."
And I laughed, what does that actually mean? Rushing around for the holidays, cooking like mad, scrambling to see loved ones of all shapes and sizes? Probably. But do you know what it also means? Naps.
I miss naps.
And then I read Akhmatova's poetry over the last week on my commute to and from work. Her writing is simple yet powerful, serene yet complex, and utterly, completely captivating.
My favourite of all of the poems in this little volume is a fragment that goes like this:
5.
But I warn you,
I am living for the last time.
Not as a swallow, not as a maple
Not a as a reed nor as a star,
Not as water from a spring,
Not as bells in a tower —
Shall I return to trouble you
Nor visit other people's dreams
With lamentation.
(1940)
She lived through prison camp, through bad marriages, through hard Russian winters, through so much hardship, and she managed to still turn words into beautiful things for me to admire. It's joyous, the wonderful, spirited, heightened magic that is the power of language, isn't it?
May 9th, 2008
While I have to say that while much Andrei Makine's IMPAC-shortlisted novel, The Woman Who Waited, exists somewhere between lyricism and imagination, much of the book suffers from slightly muddled storytelling. There's also a quirk in his writing that slightly befuddled me: how sentences and dialogue simply trail off with an ellipsis… and then start up with a completely different thought. Maybe it's an attempt for the author to force the story off the page? Maybe it's a way for Makine to foreshadow the ambiguous nature of his main character, a Leningrad scholar to goes to a remote northern village and ends up falling in love with an equally ambiguous woman.
Who knows.
Annnnywaaay. There's are fairy tale elements to the book that I quite enjoyed. Lots of deep, mysterious woods. Plenty of aging old crone-like women. Many figures appearing out of the mist. Goodly amounts of atmospheric hoarfrosty weather. The story goes like this: boy comes of age in an urban environment in Leningrad that's slightly unsatisfying. Listless encounters with the opposite sex lead to drunken fumbling behind the curtain (literally and metaphorically) and our hero sets off to the north on an anthropological mission. He's going to record and study the rituals of the women of Mirnoe, a tiny village obliterated by the Second World War, now populated almost entirely by diminishing families and widows. Among the elderly women lives a 46-year-old woman named Vera who has waited since she was 16 for her soldier to come home to her. He never arrived.
Our narrator becomes fascinated, even obsessed, with Vera, and a strange relationship burgeons between the two. He's intrigued by her story and this drives him to follow her into the woods, to the railway station, into her house. But he's young, foolish, and selfish, and as the novel progresses it becomes obvious that he's incapable of telling her story, as much as he wants to. Ultimately, I think the book, more a novella than a full novel, is worth being read. The setting (which fulfills my Russia component for Around the World in 52 Books) is mysterious, enigmatic and ultimately the most interesting aspect of the novel. It's a lovely little fable, and while so far it hasn't blown me away like Rawi Hage's DeNiro's Game, it was certainly worth the read.
READING CHALLENGES: As well as being Russia (see above), the novel the 3rd title from the IMPAC shortlist I've read so far.
WHAT'S UP NEXT: I indulged in a little something special for myself starting this morning: Paul Quarrington's The Ravine. I'm already over 50 pages in. Then I need to start kicking ass in terms of The Canadian Book Challenge, as I've got two months left to read 4 different provinces. Gack!