July 29th, 2012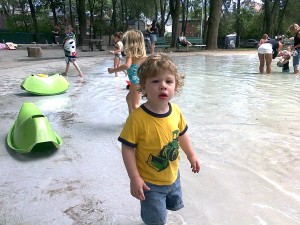 My RRHB took this picture of our son at Dufferin Grove Park. Yet another example of an amazing place, in downtown Toronto no less, for children. Whatever Doug Hollyday has to say, and it's idiotic, almost embarrassing to those who voted for a man who can be so obviously obtuse about urban life, we are finding Toronto to be a perfectly wonderful place to raise our son. I wasn't here, I was at work, but I heard all about it from my husband, and there's pictorial evidence that my kid's doing just fine being raised in Little Portugal.
The last few weeks, months, even, have been hectic. The busyness never seems to abate, and now that we're going to the cottage as much as possible, I know that the summer is going to whiz by. The weather has been amazing and as much as I believe we're urban people, I do appreciate being by the lake up at the cottage on the weekends–the water, the heat, the BBQ–it's an amazing place to just be out and enjoying the season.
So, a few things have happened. I got to write this for Today's Parent, which made my week. I've read about 10 books that I haven't had a chance to blog (I'm going to try to get caught up this week). We're in Halifax for sales conference; here's the view from my hotel (I can see the ocean if I lean a certain way; I love being able to see the ocean). Today, today I left my son at home for the very first time and am spending my first night without him.
Without him.
As I was leaving and bringing my suitcase downstairs, he kept saying, "Ethan (his says "Etin") go on trip." And my heart just collapsed a little. I wept a little in the cab to the airport. Then I sat on a plane and read, uninterrupted, for almost three hours. I haven't done that in over two years. I have almost finished a book in one fell swoop–remembering what that was like was pretty amazing. Despite the fact that I had been up since before 5AM (he's an early riser, that boy), I didn't sleep on the plane. Reading seemed more important, more precious. But the leaving him. The being away from him, well, it's hard. I know it's healthy and good and will all turn out all right, I'm just not entirely prepared for it. Like I was saying to someone today, he'll only ever be my one child–and I miss enough of his life by working that being away, even though he was a misery guts these last couple days, I'm torn in two in terms of leaving for my work trip.
Anyway, getting caught up–this weekend I managed to clean out my closet. Win! I was packed and ready to go without any stress (we have many hours in the day when said baby gets up at 530AM). I've been managing to keep with some small changes–riding my bike, keeping up with that, swimming on the weekends, but the weight is stubborn and not coming off. I still don't feel like myself. I don't even feel like a version of myself these days. My health is finally stable so I can at least concentrate on staying well, but I'm exhausted after the battle.
We spent a brilliant week up north after the July long weekend. My RRHB gave me a typewriter for mother's day (photo to come, naturally) and I was using it up there–so, much, fun. I've been working on a essay for a friend's collection and that's been an interesting writing experience. A friend has done a substantive edit on my novel (fingers crossed I have a few moments to look at it during the evenings after conference is done). For a long time, I've been thinking about giving up my writing life, that it's just not going to happen for me, and I was coming to terms with it, slowly. Now, I feel maybe that's hasty. Who knows. I can't seem to stick to anything these days.
On top of all the other crap that's happened, and this is a big confession, the cyclo that I had to take last summer has officially put me in early menopause. What an insane ride, surprise! you're pregnant–the most fertile and, well, "womanly" I have ever felt, and then not even eight months later I'm an old woman, no period, baby playing with my blood pressure cuff and super dumpy from the prednisone. I can take a lot when it comes to my health. I can endure blood tests and more tests and biopsies and bad news and bad luck and more bad luck but for once I would like to be the rule and not the exception. You know?
Today I walked by the ocean. I wonder if people who live in cities and towns by the ocean take it for granted like I take the cottage for granted? It's beautiful here, absolutely lovely. I'm excited about being a full-on, wickedly goofy tourist.
« Previous Page
—
Next Page »