September 4th, 2011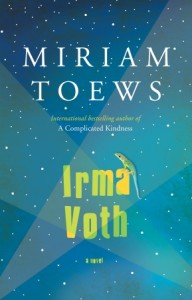 There's something about Miriam Toews's writing that I absolutely adore. It's quirky, yes. It's stylistically her own, yes. And yet, even though, as a writer, Toews has such a distinctive voice that you'd think that it would overpower the narrative, the characters, it really doesn't (at least in my humble opinion). In her latest novel, she revisits some familiar themes and/or characters: young girls with troubled home lives, Mennonite families with conflicting issues, generational problems, bossy-rebellious little sisters, and adventures that are necessary and compulsive. Irma Voth, a young, freshly married Mennonite woman who has married outside of her society, lives with her husband (they are both teenagers) in a house on her father's compound without electricity or running water. They married in secret. Her father has shunned her — she can milk the cows for her house but in no other way is Irma allowed to interact with her family.
When her husband essentially abandons her for asking too many questions (read: they married way too young and there was no way it was going to work out), Irma takes up with a Mexican film crew, and her life is forever changed. Irma misses Canada, her father absconded with the family when she was young, and she, and her sister Aggie, have fond memories of snow and their older sister, Katie. When the events unfold that drive Irma off the compound and onto the streets of Mexico City with Aggie and another, precious, package in tow, the two transform into the people perhaps they were always meant to be: strong, independent young women who both need to accept and come to terms with what Irma calls her "sins." (more…)
March 4th, 2011
When tackling this whole "off the shelf" challenge I have consigned myself to this year, I've been judging books by their page length, which, in my reading world, translates to how long it'll take me to get through it. In the Time of the Butterflies, from start to finish, clocks in at 324 pages. That's about three hours for me — so maybe a day and a half in baby time. But GOOD GRIEF this book took me forever to read because I just couldn't get into it.
While I have no doubt it's an important novel — the weight of the language, the heavy-handed metaphors and sentences dripping with meaning, tells me as much — and the history that forms its central plot, the murder of the Mirabel sisters in the Dominican by the ruthless dictator Trujillo, is actually really fascinating. But the book does not, in my mind, "[make] a haunting statement about the human cost of political oppression."
In a way, this is women's history. The novel centres around the 4 sisters and their daily lives — their marriages, the birth of their children, and it's a domestic novel for the most part. And all the while, the four sisters are charging forward with a revolution. I just wish there was more revolution in the book and less meandering. I wanted to know more about the revolution and less about ribbons. I know that's probably quite sexist of me, that the fact that these were women revolutionaries challenging the male-established dictatorship means the novel should necessarily include discussions of the domestic, but it slowed down the action to a crawl. And by telling the story from all four of the sisters' points of view, Alvarez manages to disjoint the narrative so completely that you only get a fraction of each of their lives. Personally, I would have preferred the novel centre around Mirabel, the most dynamic and active of the four sisters. But, I didn't write this book.
First published in 1994, I think this book suffers a little from the trappings of the time — long-winded and overly descriptive, I'm reminded of the Seinfeld episode where Elaine goes to see The English Patient (let me just state, for the record, that I loved both the book and the film), rolling her eyes the entire time in boredom. At least I think that's what happened — I think that might be the only episode of Seinfeld that I've actually seen from start to finish. Annnywaay, she just doesn't get what the big deal is, and I feel that way about this novel. It's a national bestseller, nominated for the National Book Critics Circle Award, and blah de blah, accolades and great blurbs. Yet the book failed to keep my interest and over and over again I found myself not wanting to finish. It was written at a time when long, flowery sentences and the cult of Gabriel Garcia Marquez was going strong. And the importance of the novel, the politics, the very real struggle, the incredibly tragic murder of these four women, gets lost within the precious nature of the prose, the inevitable storytelling that never seems to actually tell a story but circle around it, planting pretty flowery sentences along the way.
Overall, I was disappointed, and found myself just wanted to get to the end, to see how they die — and then, of course, it all happens off stage, which made me furious. They died violently, brutally, unnecessarily, and Alvarez should have had the bravery to write it. Instead, the book simply stops and then switches perspective again, heads back into its dreary narrative and tries to cover it up by describing their dead bodies as the remaining sister, Dede, identifies them. There's no power to this narrative; the power is in the truth of the events themselves, and Alvarez coasts along because of it. I know it's harsh but, again, books should stand the test of time, prose shouldn't feel dated, and a story of such importance should actually read that way, and not hold itself up on some bronzed pedestal.
READING CHALLENGES: Off the Shelf, and Around the World in 52 Books. Alvarez was born in the Dominican, and I usually really love Caribbean literature, but not so much in this case.
January 4th, 2009
The last thing I expected this morning was to get caught up in V.S. Naipaul's truly excellent In a Free State. I woke up early, as I usually do, crawled out of bed, grabbed my book and cuddled up under the duvet on the couch. My RRHB slept. I read. He slept. I read more. He woke up. I crawled back into bed, fell asleep for a bit, and then finished the book. What a perfect lazy day before the craziness of real life picks up again the moment the alarm goes off tomorrow morning.
The last Naipaul book I read was A House for Mr. Biswas way back in second year university. I was captivated but that never brought be back to Naipaul. My post-colonial reading in later years turned back to Canadian, I left university, did my M.A., and never picked up another of his books. Another of the surprises that I found on my shelf, I must have ordered this book back when 1001 Books came out. In a Free State was first published in 1971 and it won the Booker that year. Bookended by two diary-like travel journals, the collection contains two short stories and a novella, from which it takes its title.
The first story, "One Out of Many," follows a servant brought to Washington from Bombay. One day he steps away from his employer, leaves everything behind in the cupboard where he was sleeping, and becomes an illegal immigrant with an under the table job at a local restaurant owned by a fellow countryman. The story explores themes of alienation as Santosh makes his way in the United States, and slowly he discovers that he'll need to leave almost 100% of his old life behind to survive.
This idea, of the cost of freedom and the impact of the realities of immigration, is carried forth into the second story, "Tell Me Who to Kill." Leaving everything he knows behind, the narrator picks up and heads to London with the intention of giving his brother a better life, a life of studies, so he too can become "something." He works hard, saves his money, and then as so many stories go, makes a bad decision that ruins everything. Told through flashbacks as he takes the journey to his brother's wedding, the story becomes alive through his rich dialect, the obvious affection he feels for his brother, regardless of how he disappoints him, and the necessity of change when faced with adversity. It's a crushing and heartbreaking story.
"In a Free State" inverts the situation. Here a white, homosexual man has come to Africa to serve the government,under ideals of serving for the greater good. Away from the safe collective where he lives, Bobby attends a seminar and then must make his way back during a time of political upheaval. His passenger, the wife of a British journalist named Linda, makes pleasant enough conversation to begin with, but it soon becomes obvious she isn't happy either on the journey or in Africa. As their trip becomes even more arduous (they miss their curfew and are forced to stay at a ramshackle colonial resort), the polite nature of their relationship disintegrates. Armed with a sense of misapprehended colonial idealism, Bobby soon finds himself in all different kinds of trouble, some of his own making and much as a result of the political situations, and it's damning. Like in the first two stories, Naipaul explores themes of alienation and separation, of family and work, of place and displacement.
I couldn't put this book down. It's a book I'd love to study. A book that reminds you how words can sever a problem from its root, pull it apart and set it down in a way that makes you see things more clearly, even if in the end, for all three protagonists, little changes despite how hard the world presses up against them to force their currents in a new direction.
READING CHALLENGES: In a Free State is on the 1001 Books list, and so I'll cross it off there. But Naipaul was born in Trinidad, so I'll count this book on my Around the World in 52 Books list as well. It's actually a perfect book for that challenge. The landscapes, from the unknown African country that's the setting for the novella to Egypt, from London and Washington as seen through the eyes of those who settle and are not born there, there's an interesting sense of place that grounds the entire collection.
COMPS AND OBSERVATIONS: I couldn't help but think of Blood Diamond when I was reading "In a Free State," not because the stories are at all similar (it's a terribly mediocre film in the end), but because when Bobby speaks to an African man in the book, he uses that patois that Leo uses at the beginning of the film: "Who your boss-man? Who?" As Naipaul describes the country as it slips from colonial to post-colonial rule, I kept hearing, "T.I.A. This is Africa, right?" from that scene at the bar. In terms of comps, for much of the story, I kept thinking of Hemingway's "Hills Like White Elephants," despite the fact that it's obvious that Bobby and Linda are not at all lovers, their conversations have that same read-between-the-lines feel to them and the dialogue is excellent.

WHAT'S UP NEXT: I picked up Amanda Boyden's Babylon Rolling while my RRHB was using the computer. Fingers crossed I'll finish it tonight, which means I'll have managed to finish 7 books while I've been off for vacation. Not bad indeed!