December 1st, 2014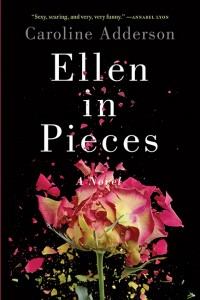 The last few months of my reading life have been bereft of a key ingredient: actual reading. I was having a hard time finding books, reading them, and finishing them. Not sure if I've found my way. Books have been the one constant in my life and, yet, I have so little time for reading. Caroline Adderson's wonderful Ellen in Pieces put a spring in my step, and not just because it's the first book in a long time that I've read cover-to-cover in a super-short period of time. It's the perfect kind of book for a weekend afternoon of reading when your kid is ensconced in watching some Disney movie you've already listened to a million times. You will fall into this book and feel at various moments that, for a woman of a certain age, living a certain life, with or without children, Adderson has seen right into your life.
Forgive me for allowing that the "pieces" of the title refer to the book's non-linear format. It slips back and forth through time and up and down different points of view. It's disconcerting at moments, not because the book doesn't make sense or the parts beyond the novel's central character, Ellen, are lacking, but simply because I loved that character so much I resented those other voices, the other perspectives. But no one lives their life in a vacuum, and when you hear about Ellen from her best friends, from her cad of an ex-husband, from her young lover, from her children, it adds layers upon layers to a life already rich with mistakes, misgivings, happiness, and wild abandon.
And I'm taking lessons from reading The Empathy Exams, which is another book that I managed to actually finish these days–polar opposite to a book of fiction written in Canada–but there's a central thesis in one of Jamison's essays that touches upon the state of "female pain." It's a very worthwhile essay to contemplate, for many reasons, not the least of which is an insistence, ever so slight, that despite the tropes around the idea of women in pain, these kinds of stories exist, they are our stories, and we should claim them. I am paraphrasing, badly, but I was thinking about this, desperately, over the last couple weeks, and found that pain resonates throughout Ellen in Pieces, whether it's the pain of your own broken dreams, of broken relationships, of failed friendships, of mother-daughter bonds–really, simply, of life itself.
Novels about women who have breast cancer are a dime a dozen. I can think of a few off the top of my head that made me want to punch a wall for how obviously they were manipulating both the idea of loss and the illness itself. I can think of one other book that I've read in recent memory where illness wasn't a device but a wonderful, necessary part of the story (Lionel Shriver's So Much For That). Let's put the SPOILER tag in here now… Here, Ellen's breast cancer doesn't feel manipulative. It's not maudlin, and it's not melodramatic. But what's also interesting is that is the moment that Adderson skips Ellen's point of view and begins to tell the story from the perspective of the other characters. I missed Ellen through the second half of the book. I missed her raw, angry, and sometimes unforgiving voice. I also missed her energy, her motion, and her voice. She's a great character, and I wished, in a way, that Adderson had at least continued to show us her own thoughts during her illness. But then maybe I'd be missing the point. Because what her death allowed was the rejuvenation of so many people in her life, her eldest daughter in particular; and it stopped the book from turning me completely into a puddle. There are many voices in this book, each crowding to the surface to show ordinary life at its most extraordinary. Still, the true heralding success of this novel, for me anyway, has to be the author's voice–it's rich, symphonic even, and had me from the first page. It's a rare feat these days, finding a book that can cut through my exhaustion, my own trials and tribulations of being a middle-aged mum, and bring me out the other side sad that it's over because I'll have to return to my seemingly never-ending unreading-reading state.