October 21st, 2014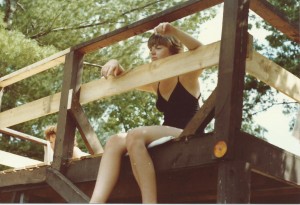 We spent the Thanksgiving long weekend at the cottage. It's a bittersweet moment–closing the cabin down for the winter. Getting all the laundry into bags, emptying the kitchen, pulling everything out of the drawers and bagging it. The whole process marks the end of a season for me. Summer, well and truly over, the kids picking up multi-coloured leaves for crafts, apple picking, playing ball outside, still, fall has its charms. But what we lose in those deep winter months that the cottage is uninhabitable is our escape. Even getting out of the city for a day or two does wonders for your brain, reset, rewind, however you want to describe it, there's something about being there that allows my mind to rest. For years, before I had kids or my cousins had kids, I would spend a late-summer, early fall weekend up at the cottage with a fire on all the time, reading, sleeping, reading, sleeping, eating, playing cards, reading, sleeping, writing. It's odd, but I am more myself there than anywhere else in the world.
The theme from my last post, the idea of being set adrift from the expected course of my life by the death of my mother, is still resonating through me, and my thoughts. My aunt sent me some more photos of my mother, and I find the one attached profound. I have no memory of the photo itself, I didn't take it, and it's not familiar to me. Except that it is, intimately, in a sense, because I know exactly where my mother is sitting and the landscape she's looking at. It's been unchanged for as long as we've owned the cottage. The sun deck looks out at the lake, and this is what you see–the big island straight ahead, the bay to the right, pickerel bay behind the big islands, the dam at the end, and way at the other end, a beach. Cottages dot the shore, and there's a small island that's within reasonable swimming distance, if you're wearing flippers or feeling strong.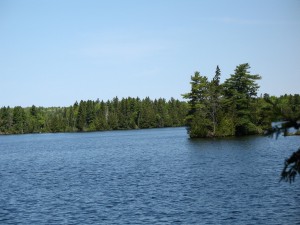 The facts are the facts. The view is the view. But the intangibles are what catch me up. What is she thinking about? What happened before, or after this photo? The light looks like it might be later on in the afternoon, which means we've had lunch, probably on the deck. Maybe we're in the water or running around somewhere outside. It's that magical time when the kids are all fed, occupied with summer-stuff, and it's not time to make dinner or do something. As a mother, now, I know this time well, or the gift of this time. Back then I would have been off with my cousins somewhere, not thinking about what my mother was thinking about, at all. Now, I wish I could ask her what was on her mind, not only that day, but in every picture we have of her. It's the loss of a relationship with my mother as an adult that I acutely miss these days. Fourteen years is a good long time to spend with another human. Using my most successful relationship with my RRHB as an example, those years have flown by, but they are also punctuated with vivid memories, and I can crawl back through them at any point. But so much of the time with my mother was forgotten moments, too young to remember conversations, caring, cuddles, and all of the bits and pieces that punctuate my life with my son.
And this is tragedy. Standing in an ocean of your life, maybe a bit too far out for safety's sake. A big wave crashes into you–a wall of water and you are swallowed up, salt stinging your eyes, scraping your feet on shells and other sandy detritus, until it's passed, and you can find your bearings again. We don't have waves that strong at the cottage. The biggest boat going by will barely make a ripple that doesn't even throw you off your floaty. Still, this view, the one my mother's staring out at, is our compass. We come to it again and again in our family. It's comfortable and the closest thing to home we have. The landscape has not changed and nor has the meditative quality of a summer day at the lake. Of a life lived in bathing suits, in the water, out of the water, on the dock, and right up until you go to bed. I love that we spend the summer in bathing suits. I love that we dangle our feet off sun decks and docks, and that we feel as much love for this place as have for one another.
I am lucky. To have been loved by someone so much that still, decades later, the space they occupied in my life has never been absorbed by anyone else. Still, these places are never the same once they are left. An an echo of laughter is missing. Their contribution to a card game is an empty seat. For us, that emptiness became obvious in our everyday lives. For years we lived without furniture in our living room. I missed my mother's parenting. The simple, stubborn fact of life never letting you forget that you are walking around while she was trapped in a hospital room–the dreary and dull air surrounding her in stark contrast to where she wanted to spend her time, I'm sure.
The summer swings by so fast. In a moment we've packed our bathing suits away and closed up the cottage. It's too cold to sleep there in the late fall, takes too much to heat it up, and it won't stay warm for long periods of time. We spend so much more time indoors in the colder months; it's the nature of being Canadian. I don't think that's what my mother was contemplating in this photo. I'll never know what she was. But I can take comfort in knowing what she was looking at is the same as the one I see all summer. There's continuity there, and that will have to be enough.