August 13th, 2014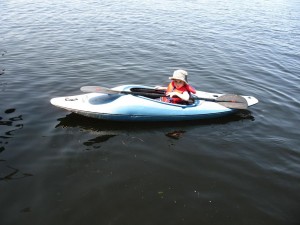 The last few weeks have been a whirlwind of vacations, driving, more vacations, and more driving. We spent the weekend in Montreal for my birthday, the start of a two-week escape from work, the first proper vacation I'd had in eighteen months. The break was welcome, and needed, and it went by far too fast. We were at the cottage for a good portion of it, our original plans, to go to Disney, were scuttled as our traveling partner-family replaced their kitchen this year, and the budget didn't stretch to both. It turned out to be just fine, three days is about as much hotel living as our boy can handle, and our style of holiday–walk a city until our feet feel like they might fall off–is a bit much for a 3 and 3/4-year old. The city was nice, we stayed right in old Montreal, and swam in the pool every day. We ate at a couple of good places, and ordered really terrible pizza one night. But, mainly, we were not at home, which is sometimes as much of a vacation as one needs.
This September is the start of many things: our boy begins school; my RRHB begins his tenure as a complete SAHD; and I'm working on a new side project/venture that's captured my attention and excitement. The days are long, and the nights too short this summer, just the way you like them, for fall, being just around the corner, will be a shock to everyone's system. Our boy still has a hard time with daycare drop-off. I don't know how he'll find his way in terms of keeping track of his lunchbox, or all the many other "big kid" things he'll need to do after Labour Day. There are still delicious baby-ish parts of him–chubby knuckles and malapropisms–that I adore and want never to change, but combing through photos, I see so many changes, big-kid haircuts, and high jumps, excluded.
There are moments when I still marvel that he's in the world. My one boy. This little bit of himself that swims like a fish and has discovered the joy of a popsicle. Visits from cousins of all ages have happened at the lake, and it's been nice for him, to have compatriots to roam around with–he's still a little too little to go off wandering on his own, which he is prone to do, but I like that he's growing up where I grew up, a consistency of place even if the trees are different, and the little island no longer has so many snakes. The rugged countryside of the provincial parks we've visited over the summer–Ferris, Petroglyphs–makes me romantic… in the Byron-Coleridge sense. Wanting to sit on soft moss and breath deeply while slapping a mosquito or two, or seventeen. The water has been spectacular, and swimming reminds me of the simple joy of a summer vacation. It gets hot. You jump in. You're feeling a little droopy. You jump in. Rinse. Repeat. Dry off. Jump in again.
When you spend your days away from the constant movement forward, the never-ending stretch to feel caught up, and slow down–even with a preschooler, a house full of cousins, and kids, and more kids, there's a calmness that descends. It's more about not having to be somewhere for a very specific time. That checking email was something I did because I felt like it, and not because I had to. That being on vacation meant being myself–so I read, I swam, I laughed, I stressed, as I do, but I also soaked up the sunshine, and slept, well, I slept better. I still can't find the energy to read a book if my life depended upon it. The couple I managed while on vacation were not literary, but more commercial reads, and it seems to be all I can manage at the moment. We're reading James and the Giant Peach out loud at bedtime these days. The boy isn't so impressed but I love it. I finished Landline, which was well-written but kind of silly. I read a novel that enraged me called Left Neglected because it felt like research jammed up in cliche, and now I'm just trying to stay afloat in terms of my book club books.
I am lost in my own thoughts these days. Finding it hard to get out a sentence, let alone two. I have wanted to post up some Facebook-style vacation updates like a fun picture from Montreal, accompanied by the "real" underlying statuses: "Great time with the family!" coupled with "Holy sh*t it took us nine hours to get here, and we're about to kill each other, and whose idea was it to have just one bed for all three of us, and was it really necessary to walk all the way halfway across town for smoked meat when we could have taken a cab–but, hey! look at my smile." The thing is–it's hard to describe the moment; the being frustrated by the "travel" aspects of travel as much as being high on the same bits and pieces. The sheer beauty of a place different from that which you see every day. In the end, it's okay that I didn't get to travel too afar this time. I do miss hiking over the pond to Europe, as we used to do whenever we took two weeks off from work, and there are so many places where I want to go. But I also liked being at the cottage for such a long period of time. It was so hard to leave. We avoided it, stayed until the last possible moment, forgot something and had to head back, and now that I'm back in the city, I can't explain what's going on–it's not dissatisfaction, really, it's just a longing for those summers when I spent the entire two months there, and remembering why it was such a wonderful place to grow up.