February 20th, 2013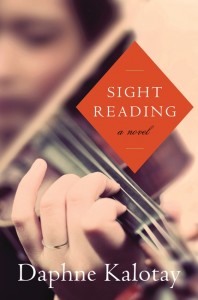 I had a moment of panic over the weekend where I tried to get caught up on a bunch of work reading before a big presentation, and to my delight, found myself embedded in Sight Reading by Daphne Kalotay when I probably should have been doing something motherly, like, well, taking my child outside.
Here's the opening: a middle-aged woman gets her toes done, steps outside in paper plate-improvised flip-flops and runs, spectacularly, into the woman who stole her husband. Yes, many years of passed. Yes, much water has flowed through under various bridges. But, still, Hazel, finds it hard to run into Remy, and the story moves back from there. To the first days of Hazel's marriage to the gifted composer/conductor/music professor Nicholas Elko, to the how's and why's their marriage fell apart, to how he and Remy fall in love, their life together (she's a violinist), and the many people and piece of music they touch. At its heart, it's a simple story–but it contains everything that makes life complex. Human relationships don't work–and even though it's not always the fault of the parties involved, the sounds resonate throughout the rest of their lives on a very personal level.
Sight Reading is a play on words, of course, the skill whereby musicians look at a piece of music and play it in the moment (am I getting that right?), for the novel, it also means the difference between the many different layers of a relationship. A note can go up, it can go down–and the musician can recognize the subtle changes–and the same holds true for a life, for love. It ebbs and flows with time, as people grow, as they grow apart, and Kalotay has visualized it brilliantly in this novel. I'd compare it to the great novels by Ann Patchett or Barbara Kingsolver, but where those two authors have political undertones, globalization of healthcare for example in State of Wonder, or environmental concerns in Flight Behaviour, Kalotay roots Sight Reading very strongly in human emotion and experience. The music is the backdrop to the novel, and she understands musicians (I think?) very well.
Throughout the book, it's apparent how long it takes Hazel to come to terms with the breakdown of her marriage, and the idiosyncratic nature of Nicholas makes it difficult for Remy, too, despite the long-term nature of their relationship. Love is gentle, kind, but also heartbreaking in this book–and it truly puts into focus something that everyone tries hard to understand, how it sometimes simply takes over a life and leaves wreckage in its path. But these are adults. They have flaws. They have sadness, happiness, embarrassment; they are parents, partners, lovers, best friends, and even it its simplicity, I found this book exhilarating. I read it one big gulp, often how I listen to classical music, too, in long uninterrupted stretches that drive my husband crazy. Sometimes, all you crave is a good book with a good story, relatable characters, and a strong sense of its overarching themes. Sight Reading is all this and more.