February 14th, 2013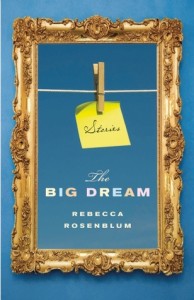 When I finished Rebecca Rosenblum's latest book of short stories, The Big Dream, I had one thought in my head: she's, to put it simply, a natural writer. I've been reading a sh*t tonne of short stories lately, mainly for work, but also for pleasure (and my work is pleasurably so figure that dichotomy out!), because I can digest them in the 10 minutes I have before crashing at bedtime, and they're really great for commuting. So, The Big Dream. It's different from Rosenblum's first collection, Once, in that there was an element of whimsy to the stories, a few of them even touching into magic realism for lack of a better term, while staying true to their urban core. The same urban/suburban settings apply to this collection–many of the stories are centered around characters who work for or on a series of trade magazines that honestly reminded me of Rogers, even though I probably shouldn't say that out loud.
Rosenblum has an uncanny ability for writing intensely modern stories with fresh characters, but they're all leading lives that anyone might recognize. The core issues that all of our Toronto-centric humanity deals with–love, family, happiness, selfish/less/ness, the TTC, job insecurity etc.–run like undercurrents throughout. I don't want to point one story out to be my favourite, because I think the whole collection is so even and well-written that it wouldn't do the pieces justice. Taken as a whole, with its links between (emails from members of the Dream magazine company), the book pieces together modern life through the myriad different people who work for, around or in the organization, but in these ordinary lives are extraordinary occurrences, observations, the things that make people individuals. I love that.
There's a lightness and a freshness to Rosenblum's voice. Her metaphors are exacting, and her sentences direct, but the writing isn't sparse. It's rich and vibrant and keeps your attention. These stories are like good episodes of a some great television you'd see on HBO, they're definitely cable, not mainstream, if that makes any sense. Overall, I was consistently impressed–reading this book made me happy, full stop. And isn't that a wonderful thing for a book to do?
(other books finished: Jennifer McMahon's creepy Don't Breathe A Word, which I found really implausible but still read it recklessly to the end, and The Last Runaway by Tracy Chevalier, which I enjoyed but found a bit light; however, am intensely curious about all of the quilting designs she describes, and really loved Honor Bright, the main character).