January 4th, 2013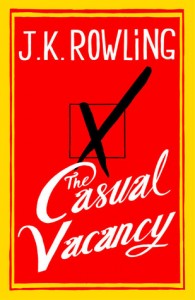 I have managed to finish my first book of the new year, JK Rowling's The Casual Vacancy. I know I am among the minority in that I have barely read Harry Potter (I read the first book, sort of, and half-read the second), but I have them all waiting for RRBB to get a bit older so I can read them aloud to him. But I did love the world she created, and I loved that it got kids of all ages reading, and so I was intrigued by her 'adult' novel.
So, the novel's title refers to the sudden and obviously quite shocking death of Barry Fairbrother, a local parish counselor and all-round good fellow. The small town of Pagford reels from the man's death–he was integral to the community and touched many around him. The story rolls out from this central event and introduces the massive cast of characters that populate Pagford–his opponents on the council, the young girls he was mentoring on a rowing team, his own family and friends. Regardless of whether or not they were intimates or casual acquaintances, Barry's death has left a whole in the community that someone needs to plug.
Rowling is a master of both plot and circumstance. She knows how to build a story from the ground up–starting with a major event that gets everything rolling. Yet, I'm not sure this was a completely successful novel. It seems to sprawl like the suburbs, ramble along like the twisty streets and cul de sacs that stretch out regardless of city planning. There are too many characters, many of whom really don't have any resonance within the story or serve to further the plot. It's as if she's so used to creating a magnificent, large, amazingly imaginative world (like Harry Potter) and can't quite seem to figure out how to bring it down to size for just one book. The ending is rushed and there's a lot of summarizing.
The Casual Vacancy is a rambling, sometimes incoherent, novel, and while I'm not saying Rowling is remotely an incoherent writer, just the opposite in fact, she's an exacting, ridiculously engaging writer. There were moments when I felt like I was reading Coronation Street, which isn't necessarily a bad thing–I love Coronation Street. My husband asked me if I thought that this book would have remotely been a success had Rowling not been responsible for the most successful children's series, well, ever, and I didn't know how to respond. I don't know if it matters. I think she's going to write and people are going to read her writing and the world is better for having her books in it.
The most interesting aspect of the novel, for me, was the discussion around class distinctions. The council wants to do away with The Fields, an area populated by poor, addicted individuals–Pagford's upper middle class–and the housing estate plus drug treatment centre doesn't fit with the ideal the council would like to uphold. It's a basic story, but Rowling imbibes it with fresh perspective–sort of Fish Tank meets the middle classes–and that's the part of the novel I liked the best. She reveals amazing contradictions within popular opinion about issues like addiction ("they should just get off the drugs!"), and presents an utterly human and completely tragic story about a young girl growing up around heroin, drug dealers, poverty and loss. There's a bit too much shock and awe in the novel, though, I don't know if you always need to make your point by being so exceptionally dramatic but I did enjoy The Casual Vacancy overall, and I can't wait for RRBB to experience Harry Potter. Frankly, neither can I!