December 31st, 2012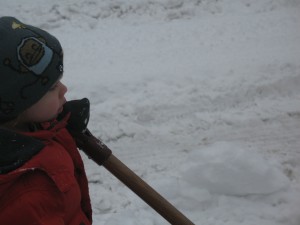 A really lovely snowstorm hit Toronto last night, a couple of days beyond Christmas, but it was still nice to wake up to a layer of white, white, white everywhere. It made me feel better about the state of the world, if only for a moment, to see 'regular' weather. We bundled RRBB up in a snowsuit (he refuses gloves, always), a hat, his boots, and off we went–without a shovel aptly sized, he tackled the mountains of snow with an adult one, three times the size of him.
Today, I'm pausing for a moment. I have my New Year's Revolution post ready to go. My RRHB has taken our boy to daycare. I've got my new book open and I'm plugging away. I have a spring deadline, and I'm making headway. I have two whole hours to myself. I spent 24 hours relaxing in a way that's even too decadent to mention (we went to a spa, my friend Heather and I), and even though I've got a cold (natch), I'm feeling all right. I'm not feeling defeated and exhausted as I usually do at the end of a year. I'm looking forward to what fun my family will get up to in 2013. I'm looking forward to getting back to the busy days of work doing a job that I enjoy. I'm looking forward. I actually can't believe I'm writing that sentence. No, what's more, I actually believe the sentence as I write it.
There's something about winter covering everything up that allows for internal moments. I always found my best writing times were in the dead of winter–deep, dark days that let your imagination wander and your thoughts trend downwards. It's very healthy for the imagination, those bleak long winter nights–you get right down into it, and I'm excited that there's a proper Canadian winter out there for me to enjoy.
I have a number of challenges–lord knows I wouldn't be me without them, including blogging more and really trying to find a way back to health this year. The disease is stable for the first time in almost three years. I've battled back from the edge once again. I don't know how many chances I'll have. How many lives. So I'm taking a page from AJ Jacobs and will be reading a number of categorically health-related books and trying to integrate some simple changes into our lives. I'm picking an issue a month and going to try to find ways to deal with it.
A new year on the horizon. Could anything have more potential and be more energizing?