September 10th, 2012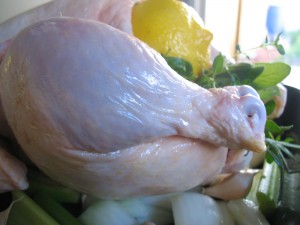 I was inspired by Kerry K. Taylor's post "1 Organic Chicken, 22 Meals, $49.00 Bucks," and so I roasted a chicken this weekend for our family. My chicken was not as expensive, but I bought two of them (one for the freezer because it's ever-so hard to get to the butcher), and some other supplies for the upcoming weeks. It's all a pale attempt for me to put into action the increasing guilt I feel over not cooking enough at home. We order a lot of food, and we're also trying to civilize (ha ha ha ha ha ha!) our two-year-old and have full family dinners a couple of times a week (RRBB often eats earlier than we do, hopefully this won't be forever).
So I cooked this lovely old chicken, roasted some vegetables, which were terrible, made an apple crisp and some muffins too this weekend. Sometimes, cooking feels like such a balm to me, it's work that is rewarding but also fills up the busy time. Having a curious and over-active toddler doesn't make it easy–he wants to stir everything, dump everything, and generally make a giant mess as I'm trying to keep things tidy, but it's killing our budget to eat out so much.
I'm hoping that I'll be able to make some chicken soup this week, because I did make stock from the leftovers, which is at least two, most likely three meals, and then some when you add in Ethan's meals too. But every week, like anything else in my life, I try so hard to say, "oh, no ordering this week!" and then bam! something hits and we're stuck back in the same rut of ordering and eating bad food. It's so unhealthy. Yet, it seems to be all about surviving these days. Add to my over-layered sense of guilt–I read Mark Bittman's delightful Cooking Solves Everything Byliner original the other day, and have been feeling the pressure to at least try and cook more. It's easy at the cottage–there's no phone, and hence no take-out, but the minute we're back in the city, cheap Chinese food's on speed dial and there goes another year of my life to bad cholesterol.
My health, for once, feels kind of stable, even if I'm always exhausted and rundown. At least my kidneys are cooperating and my bloodwork isn't a puzzle for sixteen-dozen specialists to figure out. But even if that's under control, I'm still the unhealthiest I've been in the last five years. Being overweight, under-stimulated, sluggish, and a whole host of side effects from the various medications I'm on, means I'm stuck in a rut that I can't get out of. It's hard to put all that pressure on one lonely "happy"-esque chicken to solve my problems, but it was a good step. Fingers crossed our soup turns out.