May 25th, 2012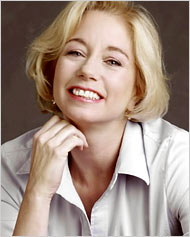 My admiration for Laura Lippman (the book cover isn't final yet…) knows no bounds. I think she's marvelously talented. She writes great commercial fiction with a woman's edge  that contain undercurrents of social and political issues. In her forthcoming, And When She Was Good (out in August), Lippman's protagonist Helen Lewis (aka Heloise) is a suburban madam looking for a way out all the while protecting the people closest to her–namely, her son. Helen's story feels at once familiar, girl falls in love with the wrong guy at an impressionable age, she's looking to escape an equally horrible home life (her father's abusive), and without education, without choices, she ends up first as an exotic dancer and then as a prostitute. Working over the years to build a somewhat solid, relatively 'safe' business, Heloise (aka Helen) gets to a point where her past catches up with her and to ensure any sort of future, she needs to leave the working girl life behind.
Unlike traditional thriller/mysteries, Lippman's stand-alones don't usually include a central "whodunnit"-type plot. They're often more character-based, like And When She Was Good, where Lippman moves seamlessly back and forth through the past and the present to create a sense of suspense and urgency in terms of how the story's going to turn out. Her books are fast paced and her characters are well drawn. There's little for me to look critically at–even if the set-ups a little cliched, it doesn't matter, the story rips along and drags so you deeply in that it was impossible for me to put this book down. And when you're squeezing reading into the corners of your life, that's saying something. I'd rather stay awake to finish the book than get some much-needed rest.
And When She Was Good doesn't come out until August, and it's a perk that I had an early galley to read (another part of my work-life that I shouldn't take for granted), so I don't want to spoil any part of it. I'm just going to say this: that I was honestly surprised by the parallels within the narrative and the ending was not what I expected…
Also this week, I read a very mediocre novel by Dashiell Hammett called The Dain Curse (#45). Not much more to be said except in this case, I totally guessed the ending and it wasn't nearly so slick and entertaining as The Thin Man, which I desperately enjoyed.