May 2nd, 2012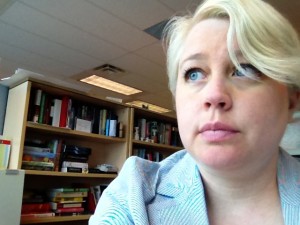 So, in my new calendar of keeping up with blogging, I have marked Wednesdays as the point in the week where I'm going to talk about the disease, or, rather, living with the disease. Part of that is posting up horrible self-portraits to try and get over some the acute anxiety I feel about being a diseased person. The whole point of the small changes that I have been trying to make is getting back to a place where I don't let the disease define me. But when it's staring you right IN THE FACE sometimes it's hard to get passed it. Puffy cheeks, chubby body, exhausted, bags under your eyes, sinus pain — there's not a lot I can do about the symptoms. At least I am back to the small dose of prednisone this week (only 5mgs), which means that my appetite and cravings should go back to normal over the next couple weeks.
Then, it's just a waiting game. Waiting for test results. Waiting for doctor's appointments. Waiting for doctor's opinions. Waiting for people outside of my body to tell me what's going on inside my body.
The conflict surrounding all of that sometimes overwhelms me. My energy curdles throughout the day, turns sour like milk left in the sun, and by the time I get home I'm cranky and unhappy. I can rally for the baby, spend a somewhat energetic few minutes playing with him before bath time if I'm not totally wrecked but then, nothing. And herein lies the really hard part — because there's so much I want to do.
Living with constant, persistent illness is hard, physically, psychologically. And trying to manage that along with the daily grind of everyday life, well, it's no wonder some people simply don't survive. So, I've been making my life small these days, like I've been talking about a lot lately. Last week I focused on grooming (it's sounds ridiculous, doesn't it?). I got my hair done, my eyebrows done, and a pedicure is on the horizon. Feeling like yourself and not your diseased self is a good start. This week I'm trying to take care of some life-organizational things in small batches. Next week I'm getting back to diet-related stuff. I'm going to try one day without sugar. One day at a time. One goal at a time. One success at a time. It takes the pressure off to be completely better, because I'm still feeling so very very tired, but my mind just won't quit.