February 20th, 2012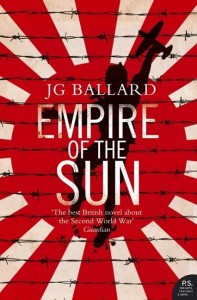 It took me ages to finish this book, another that has been on my shelves since I started working at HarperCollins, which is five years ago next weekend, because, well, I found the voice kind of boring. I know, it's an awful thing to say. The content of the book isn't remotely boring — young Jamie becomes separated from his parents during the Japanese invasion of Hong Kong during the Second World War, he's imprisoned and learns to fend for himself. His evolution from pampered school boy to scavenger and camp "rat" is impressive, as is both his intelligence and will to live. Yet, the book bored me to tears.
In a way, it's one of those rare times where the movie wholly spoiled the reading experience for me. I couldn't get Christian Bale's Jim out of my head, and every time I saw him doing something in my mind's eye, the movie flashed before me and I was back to thinking I'd just rather watch it again than read the source material. Not a good sign. There's an emotional depth that's somewhat missing in the novel, a chord that doesn't quite strike right, and maybe that's my own prejudice in terms of storytelling coming forward, but I wanted so much more from the book. The horrific things that Jim endures, like the constant flies at the sores in his mouth, are epic, and overwhelming, and yet, the childlike innocence that fosters the richness of the character from the beginning of the novel wains by the end. And the things that are never explained, the bits of the story in between the lines, that's what I really wanted.
So, I'm glad I read it. I'm glad it's off my shelf. I'm glad I crossed another title off the 1001 Books list, but the "Bs" are proving difficult to get through. I have a mammoth undertaking in Cloudsplitter, which I've started six times, and my go-to escapism author, Chris Bohjalian, has written a novel that's impossibly dull as well — in short, I might be stuck in the "Bs" for a while.