February 4th, 2012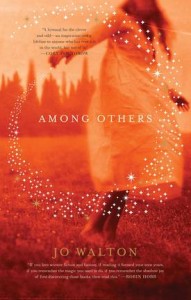 From one kind of magic to another seems to be the theme around here lately. Jo Walton's ridiculously good novel, Among Others, while dealing with a similar kind of world, where magic exists as reality and not illusion, couldn't be more different than The Night Circus. The novel follows the diary of 17-year-old Morwenna Phelps, who after living through the horrific death of her twin sister, which leaves her disabled and walking with a cane, is shipped off to live with her estranged father in England, where it's exceptionally hard to see the fairies.
Promptly enrolled in boarding school, Mor tries to make sense of the world, and, as if it's hard enough being a teenager, she's got to contend with a terrible witch for a mother, aunts insistent upon casting their own spells, and a crush on an adorably inappropriate boy in her science fiction book club. An outcast if there ever was one, Mor's also incredibly strong-willed, fiercely intelligent, and remarkably brave in terms of the troubles she endures.  When my friend Dan sent the book over to me, he implored me to ignore the cover, which is, honestly, quite terrible — and I'm ever so glad that I did. I devoured this novel. I simply couldn't put it down,  then I gave it to a friend at work just so she could read it and I'd have someone to talk to about it. I didn't want it to end — I was so proud of Mor and how she dealt with her tragedies, and I haven't rooted for a female character like this since Katniss volunteered in The Hunger Games.
Sure, as Charidy and I discussed, there are a lot of "WTF" moments within this book — I really wanted a prequel (that would give me more than the forward and so I could know more of the story of what happened between Mor, her sister Morganna and how they saved the world from the ruin of their mother) and a sequel (so that I could see how the love story plays out) because everything in between the covers of this novel made me ache for more. It's a love letter to science fiction and fantasy, and being one who has never really read either, you'd think that would put you right off, but it doesn't, you dive in and desperately cheer for Mor when she finds  (or casts about for) a group of people to commune with. Your heart crushes just a little when you discover why the fairies are calling her back to Wales, and by the time the novel hits its climax, you're desperately wanting your own bit of magic to add another three hundred or so pages because you don't want it to end. It's a brilliant little book.