December 19th, 2011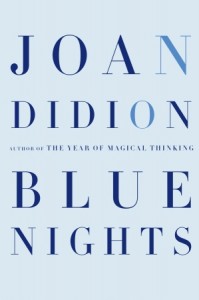 Over the last few years, instead of sending sympathy cards for friends who have lost loved ones, parents, I've sent copies of The Year of Magical Thinking. It's the one book that helped me on every level deal with the accident/death of my own mother. Didion's exceptionally precise writing and her own deep, deep loss was both oddly exacting and yet comforting at the same time. It's the most consistently accurate book about how to think about what the absence of the kind of love that we take for granted every single day does to the human heart, mind, soul that I have ever read. And then, we come to Blue Nights.
After the death of her husband, Didion's daughter, Quintana Roo, died a complicated death caused by inexplicable but utterly explainable cascading medical situations that seem to define the word tragedy. Blue Nights remains the author's meditation, for it's hard to refer to it as a memoir, on the loss of a child. But any discussion of children cannot be separate from that of motherhood, of its failures, of its successes, of its utter inability to define your life outside of it once it's happened to you. And Didion, balancing the life of a writer with that of mother was never a cause for regret, per se, but of reflection — and the results are brilliant.
Having led a life already defined by the inexplicable kind of tragedy that Didion herself has experienced (and I am not for once "putting myself into her shoes," I'm just saying that my life has not be easy), it's impossible for me not to relate on every level to this work. I am happy that this book is free of the platitudes that usually plague books of this kind — that the honesty required of Didion to even write about what happened to her excises any of the typically movie-of-the-week emotions that would feather a lesser book into melodrama. Yet, when Didion describes her own frailty, her wonder at who her emergency contact might be now that both her daughter and husband have died, and the complex relationship she had with her beautiful daughter while alive, there's an undercurrent of honesty that a lesser writer would simply be unable to achieve. Her writing is direct and simple yet it aches with emotion. The book can write in one sentence what would take me paragraphs. My heart will never be the same after Blue Nights. There are lessons in its pages, and maybe that's more the point, for me as a reader, that my own words will never come close to being able to explain how profoundly this book affected my consciousness. I have put it back on the shelf — it's one to keep, to reread, to remember.