December 19th, 2011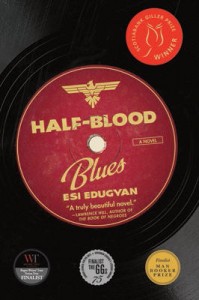 I've been sitting here for a few minutes trying to think of how to write about Esi Edugyan's Half-Blood Blues. Firstly, it's an amazing alternative history or, rather, underwritten history of the Second World War. A group of jazz musicians in Paris, a young half-German boy among them, a gifted musician, perhaps the most gifted among them, is taken by the Nazi's while simply on a quest for milk. His companion, Sid, his friend, another musician, perhaps not as gifted, watches as the Gestapo carts Hiero away. This is the moment that haunts Sid for the rest of his life, through multiple wives and multiple lives, it's not something that he'll ever forget.
Yet, Edugyan's story isn't so straightforward. Yes, it's a novel about musicians during the war. It's about displaced people and a how a burgeoning art form creates families among the young men who eat, drink and live jazz. It's about betrayal and loyalty as much as it is about cowardice and making hard choices in impossible situations. Sid is an amazingly conflicted character — he acts, well, human in situations where one would think that morality needs to have a higher purpose. Life, in times of war, is not to be taken for granted and, yet, he seems unable at times to move beyond his own jealousy about the music, about his own inability to come to terms that the gods have not necessarily bestowed him with the same kind of gifts as his fellow musicians.
The novel moves back and forth through time, reminding me of On the Road, not necessarily in its structure but in its utter decision to have the narrative flow like jazz itself. Music pervades every sentence of this novel. It's in how the characters speak, their own language in places, a rhythm all its own. It's in the decisions they make — why else would they stay in Paris during the occupation were it not to make the record (of the novel's title) if they had any chance to get out? Lightbulbs flicker, water stops, food is scarce, but they have a bass, drums, and a trumpet, and they scratch it out on hard vinyl before finally trying to escape the Germans.
In a way, this novel is wholly deserving of its Giller win. It's an exceptional piece of fiction that feels like nothing that has come before it in the sense of its characters and the particularity of the storyline. But, truly, it's Sid that fascinated me — I've had many discussions over the years about characters who aren't "likeable." That's not necessarily the case here, he's very likeable, but he's fallible, human, emotional and makes a tragic mistake that reverberates through his entire life like a high note by the Louis Armstrong he so admires. That's the true success of this novel for me — how Edugyan explores morality in situations where to do anything except what's considered heroic is appalling.