December 16th, 2011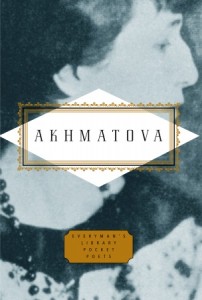 Yes, I am very behind. I have read seven different books in the last little while that need to be written about, I will be getting caught up over the next week or so because as of today at 5 PM, I am on vacation until January 3rd.
RRHB: "At least you can get some rest."
And I laughed, what does that actually mean? Rushing around for the holidays, cooking like mad, scrambling to see loved ones of all shapes and sizes? Probably. But do you know what it also means? Naps.
I miss naps.
And then I read Akhmatova's poetry over the last week on my commute to and from work. Her writing is simple yet powerful, serene yet complex, and utterly, completely captivating.
My favourite of all of the poems in this little volume is a fragment that goes like this:
5.
But I warn you,
I am living for the last time.
Not as a swallow, not as a maple
Not a as a reed nor as a star,
Not as water from a spring,
Not as bells in a tower —
Shall I return to trouble you
Nor visit other people's dreams
With lamentation.
(1940)
She lived through prison camp, through bad marriages, through hard Russian winters, through so much hardship, and she managed to still turn words into beautiful things for me to admire. It's joyous, the wonderful, spirited, heightened magic that is the power of language, isn't it?