October 20th, 2011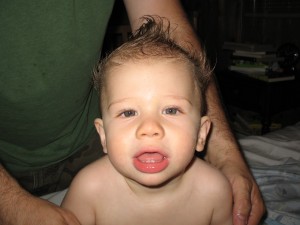 The euphoria of being back at work hasn't necessarily worn off, hell, I'm still just so stunned that I'm getting a regular paycheque again that I can barely contain a grin when I look at my bank statements. But I'm finding the day-to-day a difficult adjustment being torn between wanting to be at home with the baby and finding myself truly excited to be engaged at work in a way that's reminiscent of the early days I spent as an internet hack.
So, I cry in the mornings a little bit as I leave. I race to work. Barely take a break. Race home. Put the baby to bed and then collapse in front of the television before heading up to bed to read a little before getting a bit of sleep until the baby wakes up at about 4 AM and I can't get back to sleep again. Then, here we are, it's 622 AM and I've been up since 4 and am faced with a very long day without naps where I am expected to think and be productive and all I'm capable of doing is writing run-on sentences and drinking umpteen cups of herbal tea.
The RRBB turns one this weekend. It's amazing that both he and I have survived an entire year. He's a robust, bottle-rocket of a baby these days, tearing through toys and temper tantrums in equal measure before crashing into bed and doing it all over again the next day. He had his first real week of daycare — he's going Mondays and Tuesdays — and it's a hard adjustment for him. Layer in the fact that my RRHB has been sick since Saturday evening and we're in full-on coping mode at the moment. The never-ending to-do lists are weighing on me. The fact that I feel as though I'm doing neither job well makes me a bit edgy. And I am simply not getting enough sleep.
I know it'll take us all a while to get used to the new routine. To the real routine, as it may, because every good thing must come to an end. Even though the past year has been one of the hardest in my life when it comes to my health, I'm so pleased that I finally got word from the doctor that my blood work is fine. My white counts have rebounded and I no longer need to live in a bubble. I can start the maintenance drugs for the disease that don't have the insane side effects of the cyclo. Yet, the damage is already done. My body is battered and weary from that horrible drug — there are residual problems that don't seem to be clearing up even though I've been off of it for longer than a month. There's one particular issue that might never get better and my body feels worn down and out of snyc in terms of its natural rhythms. Because it's been so long since I had to take SO MUCH medication, and I was so much younger when the disease flared this violently, I'm not sure how my aged, slightly decrepit system, will bounce back. And being so busy with the baby, with work, with life means that I'm not necessarily making the most healthy decisions when it comes to eating and resting and all that jazz.
I have a couple friends who are also going through their own difficult times at the moment. And I keep giving them the same advice that I seem unable to take into account myself. If you look at the overwhelming crap that's happening from a minute-by-minute perspective, it seems impossible to overcome. You get tied down by the weight of it all. And yet, it's important to celebrate anniversaries just so you can actually look back and see how much you've gone through, how much you've changed, and take some solace in the fact that you've survived, you know? That's why we're celebrating on Saturday when the baby turns one. It's a milestone for him, indeed, but it's also a chance for me to reflect on everything that's gone on in the last twelve months and gain a little perspective. Every new parent feels overwhelmed at the sheer magnitude of the changes to your life. Every new mother must struggle with accepting the realities of your new role. This isn't remotely a reflection of how much you might love your child. So much so that you want to eat their toes and squish them at every turn, but it's more the constant struggle to reclaim those parts of you that make you who you are on a daily basis.
This year the disease has taken away so much more than the baby. He's given me a richness in my emotional life that wasn't there before — it's an electrical current that I find hard to put into words, and there's an underlying contentedness when I'm in his company that I can't explain, it makes me feel an abandon that's the closest to sheer joy that I've ever experienced. But in the same breath, I'm already exhausted at the idea of speeding through life at this breakneck pace of the last couple weeks. I know things will calm down. The trips on the subway won't always be screaming, crying nightmares and neither will the daycare drop off traumatize us both for hours afterwards. My RRHB will get better, the laundry will get caught up on and a real dinner will get made (thank you beans on toast, thank you Amy's pot pies). And this weekend we will have our family and a few friends who are just like family over to celebrate a milestone. The RRBB will eat cake. We will take loads of pictures. The house will be happy and chaotic. And I will give over to the sheer bliss of squishing him in celebration of the fact that we have made it through a whole 365 days together almost in one piece.