October 9th, 2011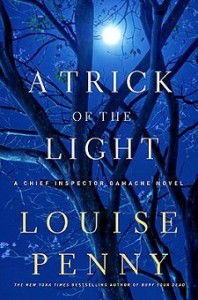 I'm jumping ahead to #73, Louise Penny's A Trick of the Light (#70 was Sanctuary Line by Jane Urquhart; #71 was Beggar's Garden by Michael Christie; and #72 was Lucky Jim by Kingsley Amis for book club) because if I don't get something down, I feel like I'll just be stuck trying to remember books I've read months ago and never actually press "publish."
It's been a while since I'd read a really good "whack on the head" mystery and Penny's novel didn't disappoint. When I got the ARC I'd never a) heard of Louise Penny or b) heard about her Inspector Gamache series. Apparently, A Trick of the Light is her seventh novel in the series and something incredibly dramatic and upsetting happened in the previous novels (which I don't want to spoil in case I go back and read them) where the ramifications are being felt by both Inspector Gamache, the novel's main character, and Jean-Guy Beauvoir, his second-in-command.
So, Clara Morrow has her first huge art opening at the Musée des beaux-arts de Montréal. It's an amazing opportunity for Clara, a middle-aged artist who has never had a big break before. Her art remains hopeful, energetic, qualities that her contemporaries outside of this show openly mock and deride, even after her big show.  As if the thought of a review in The New York Times wasn't hard enough, Clara awakens on the day after her opening to discover a dead woman in her garden. Suddenly, the sweet, "off the map" town of Three Rivers is once again thrown into an investigation. The locals are questioned; some even step out and conduct their own questioning, which feels so utterly cozy, in order to figure out what happened to the victim. Embedded in the art world. everyone, from the art dealers to the gallery owners, from the artists to the critics, is a suspect. And as Inspector Gamache uncovers who actually committed the crime, lives unravel.
There's a lot to enjoy about the novel. Penny's a skilled storyteller. She knows how to keep the pace ticking along while still allowing her characters to reveal a rich inner life. There's a bleakness to the some of the backstory: Inspector Gamache and Beauvoir endured a real tragedy in, I'm assuming, the previous book in the series. The self-reflexive title, referring both to how artwork can change depending upon who might be looking at it, works its way through the novel. Everyone tricks everyone else — no one tells the truth, no one acts faithfully, except, of course, for our hero. Yet, at times, even he's fallible, entirely human, and has his faults.
At times, there's a bit too much going on, maybe a few too many characters to keep everything straight. And Penny has this strange writing tick that drove me a bit crazy. Sentence. Sentence. Dramatic sentence. In most cases, the third (which in many cases because an unnecessary new paragraph) sentence became a case of literary gravitas — a dramatic pause that felt almost overwritten in places. That said, I always judge a mystery/thriller by how hooked I am at the beginning. If I'm dying to find out whodunnit, so much so that it takes everything in me not to flip to the end of the book (and who am I kidding sometimes I do), then it's a solid novel. The poor victim had barely been found before I was dying to know who killer her — and the answer simply does not disappoint.