September 2nd, 2011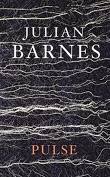 I am so behind in, not just my reading, but my writing about my reading it isn't even funny. So, for posterity, I have finished the following books:
#66 – A Gate At The Stairs by Lorrie Moore
Truth be told, I loved this book like a high school crush, I couldn't get enough of it. The tragedy of it felt a bit forced but the writing remained so fresh and inspiring all the way through that I forgave Moore for the melodrama. Her writing reminds me a little of Miriam Toews (I'm reading Irma Voth right now) and perhaps that's why I ear-marked about 100 pages of phrases and thoughts that melted my heart as Tassie Keltjin, a 20-year-old university student who becomes a nanny only for the entire situation to go so magnificently awry in the most horrible of ways (no death, nothing gruesome, just sad), suffers through one of the most pivotal years of her life. The book is so, so sad, but that's what makes it so, so good in my estimation.
#67 – Pulse by Julian Barnes
Personally, and I'll take anyone to task, I think Barnes is one of the best short story writers working today. It's an amazing little collection. I liked every story. I love Barnes. I don't know what else to say. Well, except that the package — the cover art etc., is terrible. Truly.
#68 – Alone in the Classroom by Elizabeth Hay
My, when I started this book I raved and raved to my aunt that Elizabeth Hay was one of the best Canadian writers working today. The story of the young girl's murder, the narrator's amazingly intriguing aunt Connie, the setting (Ottawa and Saskatchewan), it all came together and gave me a reason to rip through the pages, and then half-way through the book, the whole thing sort of fell flat, like a ginger ale, really awesome when you first open it, then by the time you get to the bottom of the can, your teeth hurt and your whole mouth feels kind of fuzzy. It's not her best novel, and that's all I'm going to say at the moment because I am about to go and play some cards on my last night here at the cottage.